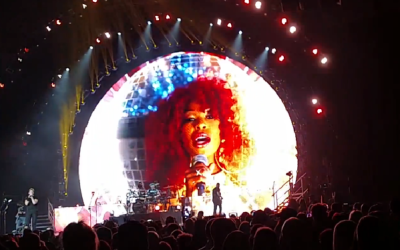 They say two heads are better than one. And when those two heads are Creative Directors Olivier Goulet Of Canadian company Geodezik and Mark Devlin of Los Angeles based Mark Devlin Visual Design, the results are FUNKY!
Goulet approached Devlin about collaberating with him to development of video content for Nickelback's 2015 Tour. Specifically, Devlin was asked to come up with a concept for the song "She Keeps Me Up" The music video was to have a 70's funk theme featuring an red headed Afro-American back up singer/dancer sporting a big red headed "fro".
The final video design featured a music driven motion graphics solution with considerable disco ball elements. The results inspired the final art direction for music video.